Für diesen Beitrag exisitiert leider keine deutsche Übersetzung.
Since the outbreak of SARS-CoV-2, infection has continued to spread. At the same time, governmental agencies around the world have adjusted the rules to prevent its spread. Information sources as basis for these rules have been obtained from scientific studies, public health research and simulation tests to understand the efficiency of mask types in preventing spread of infection by SARS-CoV-2. In this article, we will look at the mask types in use today, how much they can impede viral droplets and aerosols and how the construction of different masks helps to protect us from infection by SARS-CoV-2.
SARS-CoV-2 droplet sizes and viral transmission
The SARS-CoV-2 virus can be transmitted via droplets and aerosols.
Droplets are particles of sizes varying from 0.05 to 500 μm. They are directly emitted while breathing or talking. After being released into the air, larger droplets fall to the ground and others rapidly evaporate to form droplet nuclei less than 5 µm of size, also called aerosols, containing viruses in the range of 0.02 to 0.3 μm. Droplet nuclei can remain suspended in air for a longer time compared to large droplets and potentially contribute to airborne transmission1,2,3.
SARS-CoV-2 has been observed to be transmitted via 3 modes:4,5,6
Contact transmission (usually via direct contact with infected persons, surfaces, or air)
Droplet transmission over short distances when a person is close to an infected person
Aerosol transmission over longer distances via inhalation of aerosols that remain airborne and travel with the air
Although maintaining a safe distance from an infected or possibly infected person will prevent viral spread via direct contact and droplet transmission, maintaining a safe distance may not be able to prevent spread of infection through airborne aerosols. This is why it becomes even more important to wear a mask.
Mask types and structure
Surgical masks, also called medical face masks or mouth-nose protection (MNS), are disposable products that are normally used in clinics or in doctor's offices on a daily basis. They are made of special plastics with multiple layers. They have a rectangular shape with wrinkles so that the mask can adapt to the face. The front (outside) is often coloured, the back (inside) is not. The masks have ear loops and a wire noseband (see Figure 1).
Due to the shape and fit of most medical face masks, some of the breathing air can flow past the edges. Especially during inhalation, unfiltered breathing air can be sucked in. Therefore, medical face masks usually offer the wearer less protection against pathogenic aerosols than particle-filtering half-masks (FFP). Medical face masks, however, can protect the mouth and nose of the wearer from pathogen transmission via direct contact, for example with contaminated hands.
Since they are medical devices, their manufacturing and distribution must be carried out in accordance with medical device law. They must therefore comply with the legal requirements and the European standard EN 14683:2019-10. Only then can manufacturers mark the medical masks with the CE mark and distribute them freely in Europe. This is subject to supervision by competent authorities7.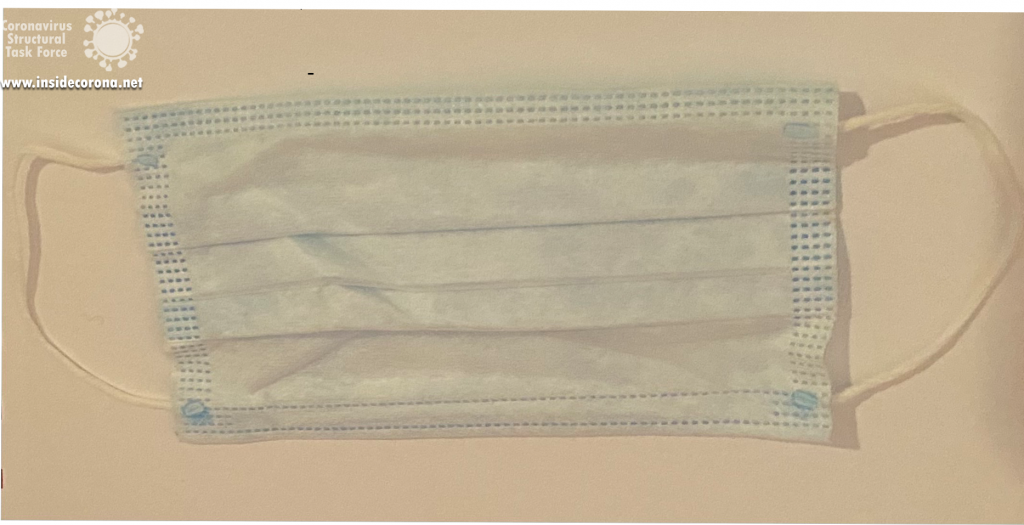 Particle filtering half masks / filtering facepieces (FFP) are objects of personal protective equipment (PPE) within the framework of occupational health and safety. They protect the wearer of the mask from particles, droplets, and aerosols. When worn correctly, FFP masks are tightly attached and offer external and self-protection. Since the masks are disposable products as intended by the manufacturer, they should be changed regularly and disposed of after use.
FFP masks are produced either with or without an exhalation valve. Masks without exhalation valve filter both the inhaled air and the exhaled air over the mask surface and therefore offer both self-protection and external protection. Masks with valves offer less external protection because exhaled aerosols are not intercepted by the filter material but are only slowed down and swirled to a certain extent by the valve.
Like medical face masks, FFP masks must comply with clear requirements of laws and technical standards. In particular, the filter performance of the mask material is tested with aerosols in accordance with the European standard EN 149:2001+A1:2009. FFP2 masks must filter at least 94% of the test aerosols, for FFP3 masks the minimum is even 99% . They are therefore proven to provide effective protection against aerosols. The test standard, together with the CE mark and the four-digit identification number of the notified body, is printed on the surface of the FFP mask7.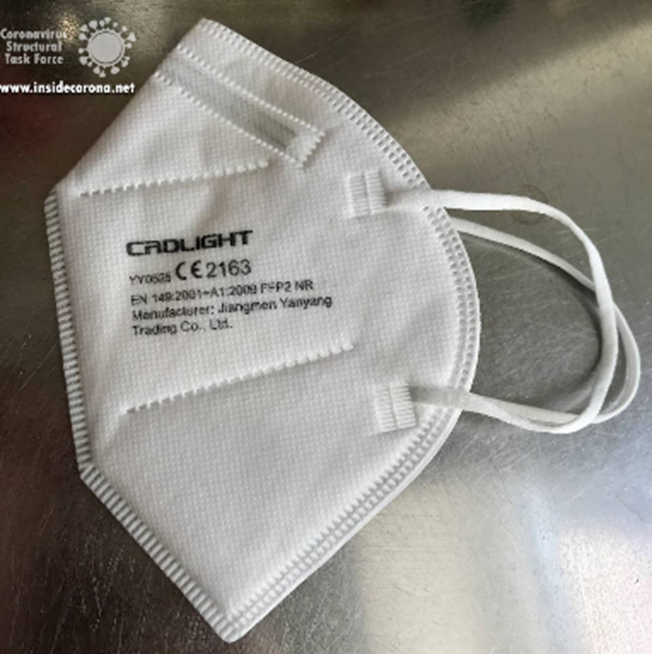 Mask standards
The table below shows the currently accepted standards for masks and how they are effective in filtering out bacteria as well as particles.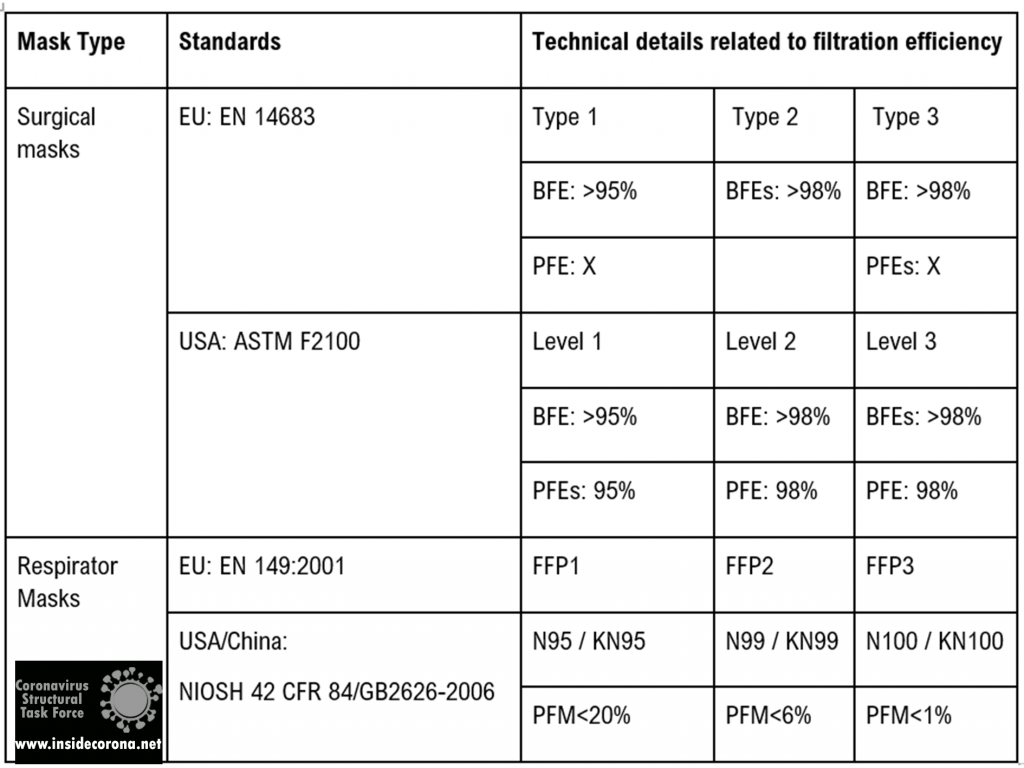 Mechanisms of protection
Masks ensure protection from viral spread in three main ways1,5:
Flow resistance inhibits the momentum of exhaled droplets and the velocity of incoming airborne aerosols. This significantly reduces the risk of infection in the vicinity of an infected person, protecting third parties as well. This is afforded by surgical masks, FFP2/N95/KN95, or better particle filtering respirator masks.
Droplet filtration blocks out large droplets via gravity sedimentation, inertial impaction, and minimizing contact of hand to mouth, nose, or other facial canals with access to the respiratory tract. It is afforded by most kinds of masks.
Aerosol filtration reduces the spread of aerosols via interception, diffusion, and electrostatic attraction. Electrostatic effects likely result in charge transfer with nanoscale aerosol particles. It is afforded by FFP2/N95/KN95 or better particle filtering respirator masks.
At small aerosol droplet sizes in the range of 0.1 to 1 μm, the mask layers prevent particles from passing mainly by blocking movement of particles with the fibers in the filter layer and, hence, not allowing diffusion. For nanometer-sized particles, which can easily slip between the openings in the network of filter fibers, electrostatic attraction is the main way by which mask layers remove low mass particles, which are attracted to and bind to the fibers. This filtering of particles by electrostatic attraction is generally most efficient at low speed of the particles such as the speed of aerosols released by breathing through a face mask.
It is important to note that openings and gaps (such as those between the mask edge and the face) can compromise the performance. Findings indicate that leakages around the mask area can reduce efficiencies by ∼50% or more, pointing out the importance of a proper "fit"8.
Although a home-made fabric mask will at least offer some degree of protection against larger droplets and prevent access to facial features, it will not be very effective in protecting against respirable particles and droplets with a diameter of 0.3 to 2 μm, as these pass through the materials largely unfiltered5.
Thus, the inhalation of droplets containing viruses can be prevented by using a tight-fitting mask with particle filtering properties (self-protection). The FFP2/FFP3 mask type is very well suited to protect people from an infection by means of aerosol even when the environment is strongly contaminated with infectious droplets5.
How does mask structure affect filter particles?
For high filtration and blocking efficiency, the construction of masks layers is very important. Factors that contribute to this efficiency are these4,8:
Movement of droplets/aerosols is directly affected by interfiber spacing of the mask material and the number of layers. Combining layers of differing fiber arrangement to form hybrid masks uses mechanical filtering and may be an effective approach.
Electrostatic interaction impeding aerosol transmission is influenced by the type of mask material. Electrostatic attraction mainly affects the removal of low mass particles, which are attracted to and bind to the fibers. Leveraging electrostatic filtering may be another effective approach8.
The SEM pictures below show the structure and construction of mask fibers and give an insight into the factors that contribute to their high filtering and blocking efficiency.
An FFP2 mask combines layers featuring different spacing and fiber network types to form hybrid masks, employing both mechanical and electrostatic filtering.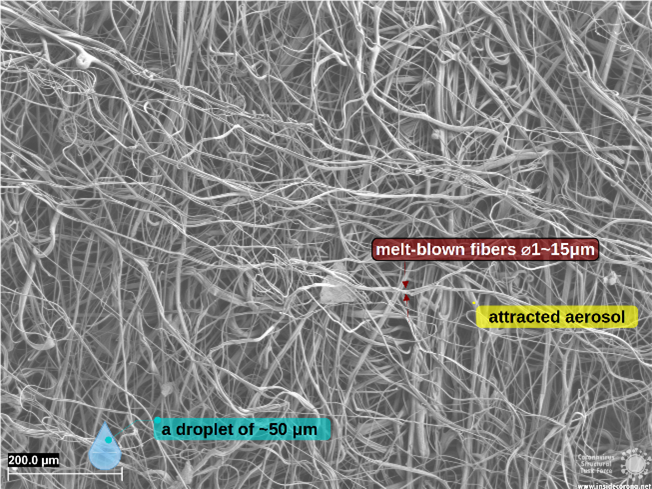 Why are FFP masks superior?
Surgical and respiratory masks are compliant to regulations that guarantee to fulfill certain standards (cf. Table 1). The superior protection of FFP masks stems partially from its filtering layer (cf. Figure 3), using electrostatic filtration to block smaller particles (~0.1 µm).
Conclusion
While maintaining a safe distance from an infected or possibly infected person will prevent spread of infection through direct contact and droplet transmission, maintaining a safe distance may not effectively prevent the spread of infection through airborne aerosols. This is where it becomes very important to wear a mask.
Masks offer self-protection and minimize transmission of potentially infectious exhaled droplets to the surrounding atmosphere. However, in some situations like closed rooms or highly contaminated places, only masks with high blocking and filtration efficiencies will offer this kind of protection, provided they are closely fitted to prevent air from flowing around the mask edges.
---
The authors would like to explicitly thank Carl Zeiss GmbH, who provided the microscopic images.
---
References
1. Anand, S. & Mayya, Y. S. Size distribution of virus laden droplets from expiratory ejecta of infected subjects. Sci. Rep. 10, 1–9 (2020).
2. Chirizzi, D. et al. SARS-CoV-2 concentrations and virus-laden aerosol size distributions in outdoor air in north and south of Italy. Environ. Int. 146, 106255 (2021).
3. Lee, B. U. Minimum sizes of respiratory particles carrying SARS-CoV-2 and the possibility of aerosol generation. Int. J. Environ. Res. Public Health 17, 1–8 (2020).
4. Sanchez, A. L., Hubbard, J. A., Dellinger, J. G. & Servantes, B. L. Experimental study of electrostatic aerosol filtration at moderate filter face velocity. Aerosol Sci. Technol. 47, 606–615 (2013).
5. Kähler, C. J. & Hain, R. Fundamental protective mechanisms of face masks against droplet infections. J. Aerosol Sci. 148, (2020).
6. Oct, U. COVID-19 Scienti c Brief : SARS-CoV-2 and Potential Airborne Transmission small particles that can move through the air The term " airborne transmission " has a specialized meaning in public health practice respiratory microbes The epidemiology of SARS-Co. 2019–2022 (2021).
7. https://www.bfarm.de/SharedDocs/Risikoinformationen/Medizinprodukte/DE/schutzmasken.html Accessed 21 April 2021.
8. Konda, A. et al. Aerosol Filtration Efficiency of Common Fabrics Used in Respiratory Cloth Masks. ACS Nano 14, 6339–6347 (2020).
---